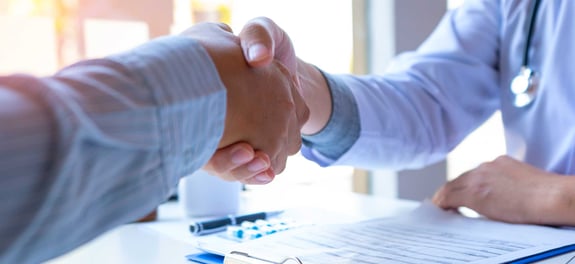 Why Partner with Alpha II
Providers
PM/EHR
Clearinghouses
Billing and RCM Services
Healthcare Payers and Government Entities
Consultants
Providers
Healthcare providers implement our solutions across the full continuum of care. This includes physician practices, hospitals, long-term care and home health facilities, urgent care centers, accountable care organizations, and some of the nation's largest healthcare systems.
Our comprehensive coding and editing solutions promote compliance, risk management, accurate billing and coding, and improve overall revenue. With broad capabilities in code search, E&M and ABN generation, clinical coding and billing edits, value-based care reporting, and overall revenue cycle management, we have a solution to meet every need.
We are dedicated to building strong, long-term relationships with clinicians and providers to reduce days in A/R, relieve administrative burden, and retain reimbursement.
Channel Partners
Whether you are a Practice Management (PM), Electronic Health Record (EHR), RCM, or Coding platform developer, discover the ease of interface integration within your software platform to:
Implement denial prevention and proactive error correction prior to claim submission
Ensure accurate coding and billing across various clinical and financial workflows
Improve your client's productivity, quality metrics, and risk management
Maximize your client's fee-for-service and value-based reimbursement
Alpha II ensures mutual success with our partners by building strong, long-term relationships and addressing each partner's specific needs to provide productive, proactive solutions for their customers.
Clearinghouses
Our solutions empower Clearinghouses to identify full claim and line-level rejections/denials for their clients, providing a proactive solution to denial management. Allowing billing and coding error correction earlier in the workflow enhances revenue, reduces administrative burden, and improves overall revenue integrity. Our goal isn't just clearing claims – we get claims PAID.
Billing and RCM Services
Billing services and revenue cycle management companies benefit significantly from our solutions, designed to complement each companies' unique needs. From denial prevention by catching errors earlier in the workflow to assisting with value-based care reporting, we have a solution to meet your needs. Our focus on revenue integrity not only improves collection percentages, but also decreases administrative burden to improve profitability for you and your clients.
Healthcare Payers and Government Entities
Commercial, self-insured, and governmental payers rely on our solutions for claims adjudication. Fee calculations based on Medicare rules and allowances ensure payment accuracy no matter what type of professional or institutional claim.
Consultants
Consultants from all areas of healthcare reimbursement use our solutions for claims auditing and compliance services. Our consultant partners also recommend us to clients looking for tools to maximize their reimbursement.